The intensity of light, the hours of sun, the colour of the surrounding nature and the general way of living at the Mediterranean redefined my choice of what are to me "natural colours" and how to define a thing called "life".
Bio
1981, born in Leuven, Belgium.
Liesbeth is a Flamish visual artist, in love with the Mediterranean. Liesbeth graduated with a Master's degree in Digital Photography at the Universitat Autonoma of Barcelona, Spain (2004), after 4 years of a Master in Communication and Social and Political Science at the University of Ghent in Belgium (2003). She fell in love with the city in of Barcelona, where she spends most of her holidays, as since 2016, Olivart Art Gallery started to represent her art:
Fina Olivart, owner of Olivart Art Gallery, Barcelona: "Liesbeth Willaert, a flemish artist, was born and lived until recently in the placid, harmonious and rainy Belgium, very close to the colorful land of tulips where Mondrián was born.
In "Under Deconstruction" she shows us some pieces where she moves away from the flat painting. Her constructivist work now has more movement with always somewhat > 45º and > 90º angles. Geometric abstraction that includes organic nuances. Vivid colors that cause even cool green or blue to be warm. A sea of bold colors and angular waves."
> Download CV
Statement
Color is a language.
Chromatic radicalism in an attempt to define the last 2-3 years of my development. There has been a shift in my artistic career since I've moved from Brussels to Barcelona in 2015. The last years my colour palette has shifted to more vibrant and brighter colours together with more radical chromatic combinations. Although colours and abstraction have always been my purest form of self expression, I can definitely state that the intensity of light, the hours of sun, the colour of the surrounding nature and the general way of living at the Mediterranean redefined my choice of what are to me "natural colours". As such, it would have been impossible to me to have made this works from my studio back in Brussels (Belgium).
Another recent development is the increase in contrast in my paintings, by the game of letting organic shapes overlap geometric shapes and vice versa. The objective is to increase tension and add "life" to the painting. ( I increased the size of my canvas lately up till 1m62 x 1m30, being the new standard, and I feel the urge to go even bigger). Together with the shift in radical colours came along the need for geometry and patterns. Those shapes come from a inner & deeper need to explore the boundaries of contrast on one side while maintaining harmony and visual fulfillment on the other side.
In my earlier works (from 2005 till 2011) I created the same effect using another technique: mixed media. I added depth and layers to my painting using sand, metal, paper, coffee, plastic, tissue, powders from stones etc… to the canvas. The same drive to express, only in another form, by other means. As an artist in residence at the studio of visual artist Jenny Verplanke, this stay played definitely a mayor role in this approach.
My current development is combining all of the three techniques above, exploring boundaries and limitations and its combination (both chromatic as formal). I feel that apart of using bigger canvases, using more layers, adding contrast, depth etc. using materials in combination with the precise colours I have in mind … will bring me even closer to what I want to express. The potential I feel what i want to evoke with my paintings is when I see the "colour sculptures" of the Belgian artist Arne Quinze.
"Colour(e)scapes": the process
These words describe in the same time, why I paint and what purpose my art work could have.
All my paintings are created from a drive of self-expression and creation. Abstract painting to me is the purest form of self-expression (what for me equals the purest and most authentic way of being me). Connection is key. My work aims to connect, to reveal and to inspire, because this is what it does with me.
Each final painting is a result of different layers reflecting different inner moods. Contrast within the painting is often created due to a deliberate rest period within the process which helps me to apply another inner state. As such, when a painting is final we could speak of a realized 'inner trip', a kind of 'voyage' or 'journey'. My works are mostly described as 'lyrical abstract' or how I like to call it myself "Colour(e)scapes".
What I'm searching for is an intense visual fulfillment. During the process, I make continuously decisions regarding colour, composition, depth, layer, rhythm etc. in order to strive towards a final, definitive & ultimate composition in which nothing can be improved. An illusion of perfection!
The decision to stop or continue painting is based on an inner feeling of inner peace, completeness and fulfilment which corresponds or resonates perfectly to the imaginative created universe of the canvas just in front of me. It's the same ambition which tormented Hesse's Goldmund & what Balzac tried to describe in his "The Unknown Masterpiece". It's that inner drive, inner ambition, part of so many other artistic souls out there. This inner "devil" or "voice" we all know.
In the end, it makes my work very open, honest and authentic.
It's definitely a mirror of my inner world or you could say, the physical object of the canvas is in a way a materialized expression, version or copy of myself. A true selfie.
The reward for me is as much the painting process itself, as the end result. It's the journey, the aesthetic "voyage" of colour, shape, weight, layers, density and the game of it. Painting is very rewarding for me. It feels so natural and "correct" to paint. When I paint, it gives me the feeling as the "whole world falls into place". It's the power that this feeling gives me that motivates to create, to express my inner world and to share; as I belief in the – very end – sharing my art is to help other people get inspired and get connected to themselves. I like to believe I can "give back" through my art.
The intensity of light, the hours of sun, the colour of the surrounding nature and the general way of living at the Mediterranean redefined my choice of what are to me "natural colours" and how to define a thing called "life".
Liesbeth came to live for the first time in Barcelona in 2003, as a university exchange student. Pretty fast she fell in love with life around the Mediterranean and the city's incredible creative vibe. She decided to stay one year more after her Belgian Masters Degree and started a Master in Digital Photography at the U.A.B. Those two years changed her life and laid the basis for a lifelong connection to Barcelona.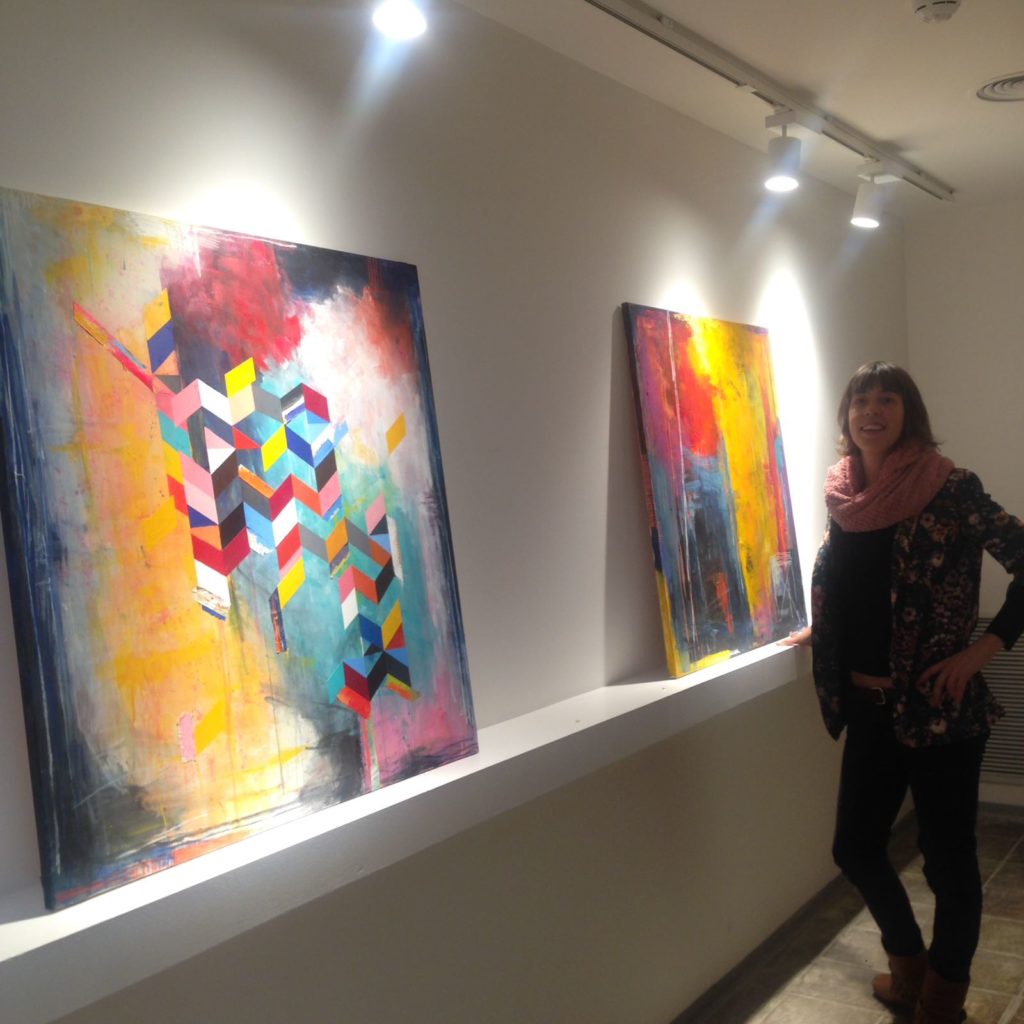 That same year Liesbeth started painting, and she never stopped. Of course there have been quieter periods, especially during long-term travels in Asia, Indonesia, Brazil. Over the years, though, Liesbeth kept returning to Barcelona, until 2015, when destiny brought her here for good! She is now happily settled in her rooftop flat in Poblenou and she has her painting studio in one of the former industrial warehouses of Poblenou, 600m2 space shared with other artists.
Barcelona is definitely home.
One constant in Liesbeth's life (apart from surfing) is drawing and painting. Ever since she could hold a pen Liesbeth drew. Nowadays her style is what the art world calls 'lyrical abstract' (what's in a name?). Her paintings are caracterised by a strong and abundant colour palette and composition. Colours have been and will always be essential.
Because of unfortunate matters (called 'life'?) Liesbeth was forced to take almost 1 year off. In that year, painting became much more than a purely creative act. It became a constant, a need, a way of life and a lifelong companion.
"Art is the only way of escaping from daily life without leaving home."
Her technique is mixed media on canvas. Starting with the foundational layers of acrylic paint and pastel, materials such as tissue, paper, dried coffee, sand, fine stone, and metal are gradually added in later stages to provide structure and strengthen the composition. Painting for a week in the studio of artist Jenny Verplancke (in 2005) definitely marked her style. It was during that particular creative "residency" that Liesbeth found her own painting voice.
Now Liesbeth is painting more than ever, as the Mediterranean life is a nonstop source of inspiration on all aspects of her life.